Thousands enter the World of Letters
Thousands enter the World of Letters
Mathrubhumi Education Online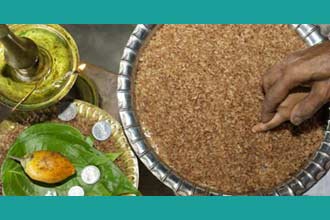 Kochi, Oct 03,2014:
Thusands of young kids throng into various temples and other religious places to enter the world of letters for the first time today, the Vijayadashami day.
Elaborate arrangements have been made and special camps have been organised to celebrate the day with much fervour. No matter what your religion is, most of the kids were initiated into the world of learning with the help of an eminent master on the auspicious day of Vijayadashami.
Across the  temples, schools and churches, masters or gurus helped kids write their first letters on a plate of rice. While Hindus write 'Hari sree Ganapathaye namaha' in praise of Lord Ganesha, Christians prefer 'Sree Yesu mishihaye namaha', hailing Jesus Christ. Later, a gold ring is used to write on the kid's tongue.
Huge crowd is seen at Kollur Mukambi temple which is famous for Vidyarambham. Malayalam TV Channels started telecasting live from Kollur temple. In Kerala, thousands reached to do the ritual in  Paravur Mookambika temple, Thiruvullakkavu temple (Thrissur District), Chottanikkara temple,  Panachikadu temple(Kottayam district) and many others. In churches also the function started early morning.
The Vijayadashami day is the tenth and final day of the Navratri celebrations, and is considered auspicious for beginning learning in any field. The process of learning and initiation on this day is also closely related to the Ayudha Puja ritual. It is usually on Vijayadashami that the implements kept for puja are taken up again for re-use. This is also considered a day when the Goddess of learning, Saraswati, and teachers (gurus) must be revered by giving Gurudakshina.