NIMHANS Admission: Apply Now
NIMHANS Admission: Apply Now
Mathrubhumi education online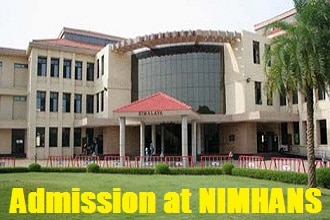 Kochi: ONLINE Applications have been invited by National Institute of Mental Health and Neuro Sciences (NIMHANS), Bengaluru on prescribed form for Admission to the following courses for the Academic Year 2015 - 2016:
A) Ph.D.
(a) Institute Fellowship:
1. Ph.D. Degree in Clinical Psychology 
2. Ph.D. Degree in Neurophysiology 
3. Ph.D. Degree in Psychiatric Social Work 
4. Ph.D. Degree in Speech Pathology & Audiology 
5. Ph.D. Degree in Biostatistics
ICMR Fellowship:
6. Ph.D. in Clinical Neurosciences 5 Seats
(ICMR Programme)
External Fellowship
(a) Biophysics (b) Biostatistics (c) Child & Adolescent Psychiatry (d) Clinical Psychology (e) Human Genetics (f) Neurochemistry (g) Neuroimaging & Interventional Radiology (h) Neurological Rehabilitation (i) Neuromicrobiology (j) Neuropathology (k) Neurophysiology (l) Neurovirology (m) Nursing (n) Psychiatric Social Work (o) Mental Health Rehabilitation (p) Psychiatry (q) Psychopharmacology (r) Speech Pathology & Audiology 
B) SUPERSPECIALITY COURSES
1. DM Degree in Neuroimaging and Interventional Radiology
2. DM Degree in Neurology
3. DM Degree in Child & Adolescent Psychiatry
4. DM Degree in Addiction Psychiatry
5. DM Degree in Neuroanaesthesia
6. DM Degree in Neuropathology
7. M.Ch. in Neurosurgery 
C) POST GRADUATE DEGREE/DIPLOMA COURSES:
1. MD Degree in Psychiatry
2. Fellowship in Psychosocial Support in Disaster Management
3. Fellowship in Psychiatric Rehabilitation
4. M.Phil. in Clinical Psychology
5. M.Phil. in Psychiatric Social Work
6. M.Phil. in Neurophysiology
7. M.Phil. in Biophysics
8. M.Phil. in Neurosciences
9. Masters in Public Health
10. M.Sc. in Psychiatric Nursing 
D) POST DOCTORAL FELLOWSHIP COURSES
1. Child & Adolescent Psychiatry
2. Neuroanaesthesia
3. Neurocritical Care 
4. Neuroinfection
4. Hospital Infection Control
6. Neurology
c) Neuromuscular Disorder
7. Neuropathology
8. Transfusion Medicine
9. Neurological Rehabilitation
10. Psychiatry
a) Acute Care & Emergency Psychiatry
b) Community Mental Health
d) Consultation Liasion Psychiatry
f) Obessive Compulisive disorder & related disorders
g) Clinical Neuro Sciences & Therapeutics in Schizophrenia 
ELIGIBILITY CONDITIONS FOR ADMISSION:
Detailed information is available at 
AGE LIMIT: 
For PG Medical and Superspeciality courses, age should not be more than 32 years for MBBS degree holders and 35 for PG Medical degree holders and relaxable in case of SC/ST Candidates by a maximum of 5 years as on 1.7.2015. For sponsored candidates age should not be more than 45 years as on 1.7.2015.
APPLICATIONS:
1. Application forms for all the courses are available online at the NIMHANS website
www.nimhans.kar.nic.in
The applications have to be filled online and submitted online. 
2. A candidate can apply for a maximum of 3 courses only, provided they are eligible.
3. The Application fee is Rs.1500/- per course for General candidates and Rs.1000/- per course for SC/ST candidates.
4. Method of Payment: Payment can be made only using any Credit/Debit cards and/or online transfer. Other mode of payment including Demand Draft will not be accepted at any cost.
IMPORTANT DATES:
Last date for online submission of application
31st January 2015
ONLINE entrance test
28th & 29th March 2015
Date of Interview & Counseling
1st week of June 2015
Commencement of courses
1st July 2015
Last date for admission
8th July 2015
For details, logon to the links: