CUSAT CAT: Online registration started
CUSAT CAT: Online registration started
Mathrubhumi Education Online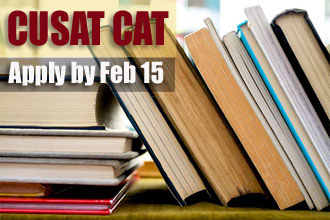 Kochi:
The Online registration for CUSAT Common Admission Test (CAT) for admission to various courses offered by Cochin University of Science and Technology has begun today at 12 noon. Candidates who want to apply for various courses including UG, PG, M.Phil, LLB, Ph.D can visit the admission website to submit online application. CAT 2016 will be conducted on 30th April 2016 and 1st May,2016. 
All admissions are on the basis of online Common Admission Test (CAT) or online Lateral Entry Test (LET) or Departmental Admission Test (DAT) conducted by the University. Only online application will be considered for all academic programmes of the University except M.Phil, Ph.D, M.A. Translation in German/Russian and Diploma/Certificate programmes. 
Online CAT for all B.Tech. Programmes (Civil, Computer Science, Electrical & Electronics, Electronics and Communication, Information Technology, Safety and Fire, Mechanical, Ship Technology, Marine, Polymer Science & Engineering and Instrumentation) M.Sc Comp. Science, 5 year Integrated M.Sc. Photonics, M.A. Hindi, 5 year BBA LL.B., B.Com LL.B (Hons), M.A. Applied Economics and Dual Degree programme of MIP.Ph.D and LL.M(IPR).Ph.D and MCA LET is scheduled on 30th April 2016 (Saturday).
Online CAT for all other PG programmes (LL.M., MCA, LLB, M.Voc, M.Sc- Chemistry, Biotechnology, Electronics Science, Instrumentation, Physics, Maths, Statistics, Marine Geology and Geophysics, Marine Biology, Meteorology, Oceanography, Industrial Fisheries, etc.) and online LET for B.Tech Programmes will be conducted on 1st May 2016 (Sunday). 
Dates of DAT for M.Tech., M.Phil., Ph.D., and Diploma programmes will be announced later by the Departments concerned. Test and admission details, eligibility conditions and other particulars will be available on the websites http://www.cusat.nic.in or http://www.cusat.ac.in.
For First Degree Programmes (B.Tech and 5 year Integrated M.Sc. in Photonics) :
 the  CAT will be conducted on All India basis with test centres in Dubai*, New Delhi,  Kolkata, Mumbai, Chennai, Bangalore, Jamshedpur,  Allahabad, Lucknow, Ranchi, Varanasi, Kota and all the District Head Quarters of Kerala;  viz, Thiruvananathapuram, Kollam, Adoor(Pathanamthitta), Thodupuzha (Idukki), Alappuzha, Kottayam, Ernakulam, Thrissur, Palakkad, Malappuram, Kozhikode, Kannur, Kalpatta (Waynad) and Kasaragode.
(The Candidates opting Dubai Centre will have to write test in ERNAKULAM centre if sufficient number of candidates do not opt Dubai Centre.)
For all other programmes:
The CAT will be conducted at all the district head quarters of Kerala.
Submission of Online Application does not reserve any type of admission to the University which is subject to compliance with Rules and Regulations of the University in force at the time of admission. All Candidates applying for Common Admission Test 2016 (CAT 2016) should submit their applications on-line. International candidates and those applying for the Lateral Entry Programmes/ MBA/ MTECH programme should also submit their applications on-line. Candidates for PhD/ M Phil/ MA Translation-German & Russian / Diploma/PG Diploma/Certificate programmes need not submit online application form. They can obtain the  printed application from the concerned Departments either directly or through post by paying the required application fee through Demand Draft, drawn in favour of "Registrar, CUSAT" payable at Ernakulam. 
The online application submission is a two-stage process. In the first stage the candidate should submit a few basic details such as Name, Date of Birth, email-id, mobile phone no, etc correctly so as to create their login credentials. User-id and password created during this stage will be send to the candidate by SMS/email. 
In the second stage the candidate should login using this user-id and password. Immediately they will be asked to change their password. Now submit all other details required in the online registration form and upload your recent passport size (color) photograph (3.5 cm x 4.5 cm with the file size between 4 KB and 100 KB and signature (3.5 cm x 1.5 cm with file size between 1 KB and 30 KB)
General Category Candidates : Rs.1000/-
SC/ST Category Candidates: Rs.500/-
Candidates who apply under NRI Quota (For B.Tech Programmes Only): Rs.6000/-
(Candidates opting test centers at Dubai should pay Rs 10000/- in addition to the above fee)
Application fee for post doctoral/diploma/certificate programmes:
General Category Candidates: Rs.100/-
SC/ST Category Candidates: Rs.50/-
Application fee for international students: 
Candidates having both Plus-Two and three year Diploma qualifications and intending to apply for both regular  B Tech programmes and Lateral Entry to B Tech Programmes are required to submit separate applications by remitting the fees specified i.e. Rs.1000/-+Rs.1000/- for General candidates and Rs.500/-+Rs.500/- for Schedule Caste/Schedule Tribe candidates. Similarly candidates who wish to apply for MCA Lateral Entry along with other programmes should remit an additional amount of Rs 1000/-(Rs 500/- for SC/ST). Candidates should retain minimum 3 copies of the Confirmation Page and the counterfoil of the fee challan/e-payment receipt for their reference.
Challan payment mode:
Choose your bank first and then take printout of the challan form along with the instructions page and make payment in the bank after two working days from the date of registration. Make sure that the journal number is correctly entered by the bank in the space provided in the challan form before leaving the bank.
Net Banking mode:
Payment can also be made from any Internet Banking enabled SBI/SBT a/c: Login to the internet banking account. Choose "Payments/Transfers". Choose "Power Jyothi Fee Collection (PUL). Enter the fee type as printed in your challan and then click "Submit" button. In the "Validation Date" box enter your date of birth as printed in the challan. In the "Fee Reference No" box, enter your registration no as printed in the challan. Then click "confirm" button to complete the transaction. Note down your transaction number for future reference.
Online(using debit/credit card only) :
Login to candidate Home page and click the link "Online Payment"
On-line registration  ends on
15th Feb. 2016
Remittance of fee at Bank (Chalan or Net banking): 22nd Jan. to 22nd Feb. 2016
Issue and Receipt of DAT Application (M.Phil, Ph.D, Diploma programmes etc) at Departments/Schools concerned: 20th Jan to 22nd Feb 2016