Summer Skill Skool' of ASAP
Summer Skill Skool' of ASAP
Mathrubhumi Education Online
Summer Skill Skool' of ASAP
Mathrubhumi Online Desk  |  6th February 2016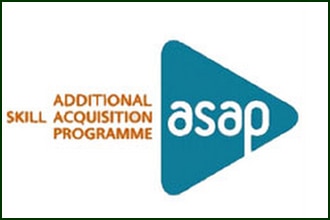 Kochi : Additional Skill Acquisition Programme (ASAP) an initiative of Higher Education and General Education Departments, Govt. of Kerala, aimed at equipping students with employable skills alongside their regular studies, has invited applications from students of final year Higher Secondary & Degree courses in the state, for admission to the 'Summer Skill Skool' being organised in institutions in the state during summer vacation 2016.
'Summer Skill Skool' is an innovative summer course that comes with loads of activities and training modules on various skill sectors. It is aimed at students who are on the lookout for an immediate job, imparting the requisite skills to help students enhance their employability skills and explore hands-on-experience. ASAP opts for fun and activity based learning, with internships so that a student is properly acquainted with all the experience needed for the job market. The list of courses being offered under the Programme is given at http://asapkerala.gov.in/sss/. Details related to each course and the locations where they are offered are given at this link.
Applicant should be a final year student of the Higher Secondary Course or a final year student of the three year under graduate course in Arts & Science Colleges. Application can be submitted online at http://asapkerala.gov.in/. On submission of the details asked, the Application form with unique reference number (ASAPSS160…) will be generated. 
The student should take the   print out of the application form and report to the Programme Manager (PM) at the Skill Development Centre, (institution mentioned in the printed form), at 10 am on February 13th, 2016 with (i) Print out of online application form (ii) Aadhar card/copy (iii) copy of SSLC (iv) 2 passport size photograph (v) Ration card/copy and (vi) college /school ID card the student. The admission will be from 10 am to 12 noon and will be based on first come first serve basis principle. 
Those without necessary documents will be excluded from selection process. Selected student has to fill in the detailed registration form provided by the SDC PM and pay Rs 250/- as registration fee for which a receipt will be issued. Selected student needs to sign an agreement in stamp paper with government before 20th February, 2016. The draft agreement will be available at the SDC.
The date of commencement of Training will be intimated to the selected candidate later.The last date of online registration is 10.2.2016.
List of Courses:
(i) Certificate in Accounting Technician (CAT)
(ii) Floriculture Protected Cultivation
(iii) Dairy Farmer
(iv) Operation & Maintenance of Agricultural Machineries
(v) Fashion Designer
(vi) Specialized Sewing Machine Operator
(vii) Automotive Engine Repair Technician L4
(viii) Automotive Service Advisor
(ix) Automotive Service Technician
(x) Certificate in Basic Level Automation
(xi) Machining Technician Level 3
(xii) Lathe Operator
(xiii) Automotive Service Technician - 2 & 3 wheeler
(xiv) Welding Technician
(xv) Automotive Service Technician - 4 wheeler
(xvi) Account Executive
(xvii) CNC Operator Turning
(xviii) Assistant Electrician
(xix) Bar Bender and Steel Fixer
(xx) Solar Panel Installation Technician
(xxi) Field Technician -AC
(xxii) Field Engineer - RACW
(xxiii) Smartphone Repair Technician
(xxiv) Field Technician Computing & Peripherals
(xxv) ROBOTICS PROGRAMMING
(xxvi) Electrical Wireman
(xxvii) CCTV Installation Technician
(xxviii) FT Networking and Storage
(xxix) PV System Maintenance Technician
(xxx) Assembly Operator - RAC
(xxxi) LED Light Mechanical Assembly Operator
(xxxii) Electrical Technician
(xxxiii) Baker
(xxxiv) Jam, Jelly & Ketchup Processing Technician
(xxxv) Jewellery Retail Sales Associate Basic
(xxxvi) Computer Aided Design (CAD)
(xxxvii) General Duty Assistant
(xxxviii) Assistant Dietitian
(xxxix) Meeting, conference and Event planner
(xl) Web Developer
(xli) Technical Support Executive- Non-voice
(xlii) CRM -  Domestic Non-voice
(xliii) Warehouse Supervisor
(xliv) Modeller
(xlv) Animator
(xlvi) Plumbing
(xlvii) Retail Sales Associate
(xlviii) Fashion Retail
(xlix) Lab Chemist
(l) Optical Fibre Splicer
The fee structure for various courses is available at http://asapkerala.gov.in/index.php/skill-courses. Concessions will be available for SC/ST/SEBC/BPL students as per rules. For details, visit http://asapkerala.gov.in